General Information
All building of roofed structures on a permanent foundation (concrete slab, frost wall, foundation wall, pier, or posts in the ground to the frost line) larger than 100 sq ft. require a Town of Liberty Building Permit (see below) and ultimate approval by the Town Board before construction begins. Liberty Township Building Permit Information.
If your building project requires a primary, secondary, or more driveway access to a Town road you will need a Driveway Permit. Be aware High Voltage Power and Telecommunications lines run underground near our Town roads. State law mandates that you must call Diggers Hotline (811) before any grading, augering, trenching, driving posts (including ground rods), and excavation work.
If you are building a NEW "primary dwelling" (home or cabin) for full or part-time residence, you must obtain a Wisconsin Uniform Building Permit (PDF download) in addition to the Town of Liberty Permit and contact UDC (Uniform Dwelling Code) State inspector: Wayne Haugrud (608) 625 -2661
It is advised that you download and read the Town of Liberty Building Permit Ordinance so that you understand the offsets from the right of way (how far from the road) and other property lines your project must be. You must also check with Vernon County as to the floodplain status of your building site and the offset necessary from creeks and dry washes. Note: all questions related to State UDC building codes would be directed to the State Building Inspector, currently Wayne Haugrud.   For Vernon County contact info.
For general questions regarding the Permit Application for the Town (not the State of WI UDC permit) or to obtain a paper copy by mail contact the Liberty Town Board Chair
Septic System
When you are installing bathroom facilities/septic system and running water you will need a Sanitary Permit. You can contact Vernon County Sanitation Dept. at (608) 637- 5271 for this application.
Manufactured/Mobile Home
If you are installing a manufactured home or mobile home you will need to adhere to the Mobile Home Ordinance.
Request a Variance
If you have a building project that runs into a conflict with Town Board ordinances you may request a hearing for Variance at the Town Meeting by emailing the Liberty Town Board Chair.
Liberty Township Information Sheet
Liberty Township Building Permit Application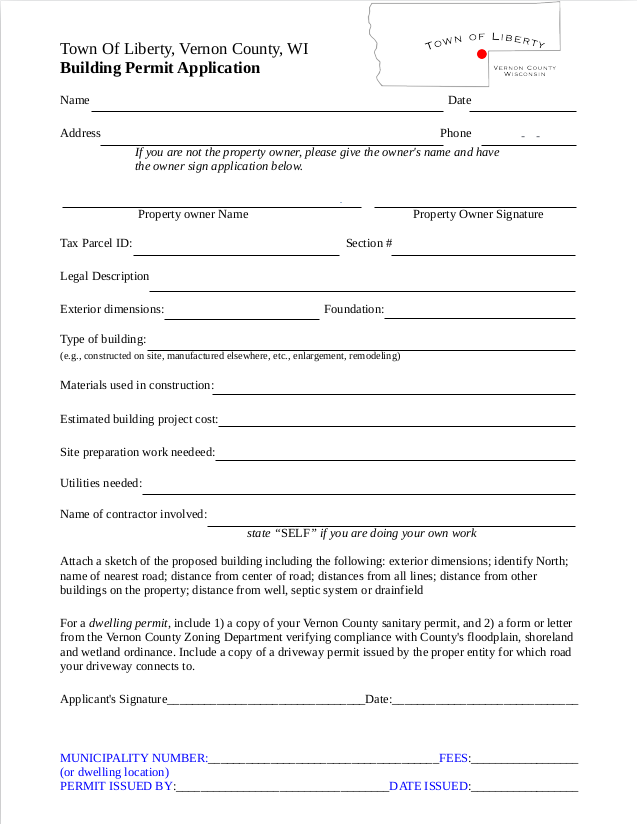 You may submit your completed and signed form by email or postal mail to the Town of Liberty Board Chair.